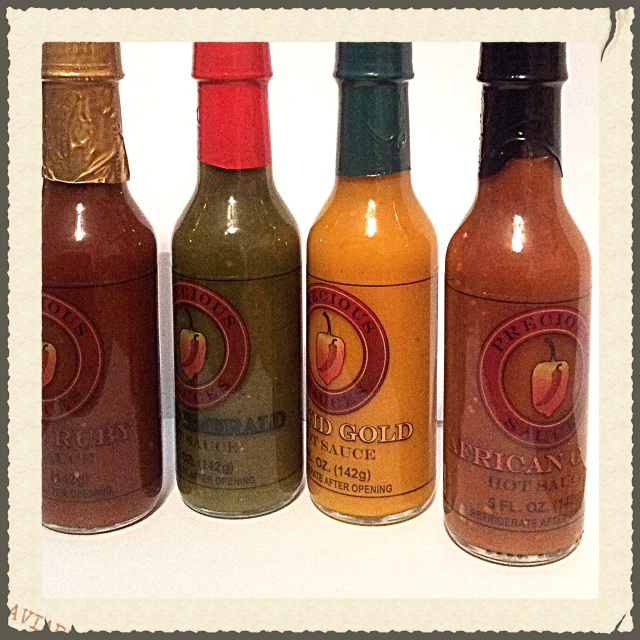 Hot Sauce four flavors(ship incl.)
SKU:
We offer four sauces of different flavor profiles listed below from mild to hot.

Liquid Ruby is a medium sauce with a base of fresh Thai Chilies, red bell, and Red Fresno peppers. A multifaceted sauce with subtle tart flavor up front and a sweet finish. A
sauce that merges well with all meats, seafood or simply used for dipping.

Liquid Emerald is a mild sauce using a mix of fresh Jalapeno, Serrano, and Poblano peppers. A tangy sauce with strong citrus flavor and aromatic highlights. Great sauce for marinating with pork and turkey. Grilling
pork, turkey, beef and vegetables

Liquid Gold is a hot sauce using fresh Habanero peppers. A sauce that has a sweet citrus flavor up front followed by a jump to full Habanero heat. Best with seafood, chicken, eggs, and great as a wing
sauce. Mix with honey for a sweet and hot glaze.

African Gold is a hot sauce using African Bird chilies(piri-piri), Thai chilies, and Red Fresno pepper. A sauce with a hint of sweet, smoke, and a strong front end heat, which continues toward the back of the tongue and hits the throat with a lingering burn. A sauce that merges well with all meats, and great hot wing sauce

Precious Sauces is a unique hand crafted gourmet product. Most hot sauces in the market are filled with artificial flavors and concentrated pepper powders. Precious Sauces was inspired by a desire for a healthy, spicy, gourmet alternative to the harsh vinegar based products on the market. Using only the freshest and finest ingredients, Precious Sauces strikes the perfect balance between flavor and heat. I created Precious Sauces out of pure inspiration. I wanted a product that stuck that perfect balance between intense flavor and spicy heat without using artificial flavors, concentrated pepper powder or vinegar which most products on the market contain. I also wanted that gourmet,hand-crafted, unique freshness that only comes from using whole food ingredients like jalapeno, serrano, habanero, carrots, and onions.